About mediTUR
Agency for medical tourism
the market for health tourism in Turkey is very large and difficult for the layman to understand. It is therefore of great advantage to entrust yourself to an experienced partner from Germany when looking for a suitable treatment.
In the field of medical tourism, Turkey is currently the most frequented country in Europe and the Middle East. A large number of patients from Europe, the Middle East and the Caucasus undergo surgery in Turkey.
Doctors, hospitals and service providers who want to treat/care for foreign patients in Turkey must be state-certified for this purpose and meet high quality requirements.
As the owner of mediTUR, your satisfaction is most important to me. In joint discussions, I will record your wishes, identify the right service provider for you and be available to you during and after the treatment.
Your agency manager Cem Azakliogullari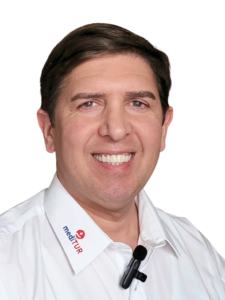 Why mediTUR?
As a mediation agency for medical tourism, it is our task to support you in word and deed throughout the entire process of your cosmetic surgery in Turkey, from start to finish.
We look for the right doctor according to your personal requirements and take care of the right framework conditions for your health trip. It is particularly important to us that you always feel well advised and satisfied.
If the worst comes to the worst, you are never alone, we support you. We are always available as your contact person and are committed to your patient rights.

Why a treatment in Turkey?
Medical tourism in Turkey has experienced a strong boom in recent decades.
Turkey therefore has many well-trained doctors and medical facilities that are recognized and certified worldwide.
Due to the high frequency of daily interventions, there is a high degree of specialization, which benefits you as a patient.
The prices are absolutely competitive and, despite additional flight and hotel costs, in some cases significantly cheaper than, for example, in Germany.
You can use the free time during your cosmetic surgery in Istanbul to visit the city, go shopping or enjoy a romantic dinner on the Bosphorus.

How it works
If you are interested in a treatment in Turkey, it is best to contact us with detailed information about yourself, your personal ideas and meaningful photos.
Our agency mediTUR works with you to find the right doctor for your medical intervention in Turkey, regardless of whether it is a surgeon with a private practice, a clinic or a hospital. Only you decide who can treat you.
Relevant information is exchanged between patient, doctor and agency. An offer with information on the intervention, the price and the general conditions is then prepared.
After we have coordinated all appointments, flights, transfer and hotel, you and an accompanying person of your choice will go to Turkey. You will be picked up at the airport with a VIP transfer and usually examined by your doctor on the same day. If all examinations are in order, nothing stands in the way of your surgery the next day.
After a successful procedure, you will remain in the hospital until your doctor agrees that you will be discharged and spend the rest of the time in your 4 or 5 star hotel.
Of course, you are free to explore the city the rest of the time. We also provide you with information material on this.
Of course you will be examined again before your departure and you can also contact your doctor or us at any time if you have any questions.
Even after your treatment in Turkey, we and your doctor will remain in contact with you so that the aftercare also works without any problems.
Your message
Please describe your request in as much detail as possible so that we can reply to you as quickly as possible.